Improving Vision and Quality of Life with Samsara's Implantable Miniature Telescope
Tom Ruggia, Samsara's CEO, talks about the innovative technology that improves the vision of people with untreatable retinal disorders. The discussion also covers the importance of partnerships, tele-medicine, and the human-centric approach.
Hosted by Jeff Kavanaugh, Chief Learner and Sharer of the Infosys Knowledge Institute.
"I like innovators, of course, but I like people who really get into the task at hand and the objective. I love to see masters at their craft. So I was intrigued and got to know Kaleidoscope well… we were working in a laboratory, working on a design of a drug-delivery technology that was making its way to market… What they did with that, it wasn't just, "Let's create a catheter that gets there." It was, "Let's create a catheter that gets there. Let's make sure the surgeon experience is perfect."
"The telescope will focus on tissue just around the section which has lost vision. So we go around the lesion with the light that we magnify, and then the brain can take that image and use it as a central image thanks to the magnified light."
"The doctors are very aware that wet AMD can be treated, and that's thanks to the treatment innovations. What doctors are not as aware is the other treatments for late-stage disease."
"There are currently 4 million patients that are appropriate for our technology who have not had a previous cataract surgery and have concomitant late-stage AMD. So for those 4 million patients, we want to get this SING IMT out there, and we feel we can get it to the masses and train the surgeons appropriately."
- Tom Ruggia
---
INSIGHTS
11% of elderly patients will have age-related macular degeneration. So many of them making it to the latter stages of the disease around the world. We see this disease in various populations. Macular degeneration affects the tissue in the center of the back of the eye.
Patients lose central vision that begins, let's say, somewhere in your 50s and can progress through your life to where you're almost centrally blind, can't see faces, can't read, can't drive, which happens rather quickly.
And there are treatments for some parts of the disease. So inside the back of the eye you may create new blood vessels, and neovascularization as common in this disease state. So when the eye creates new blood vessels in that very tight tissue plain, it's a recipe for disaster, so to speak. Generally, those patients lose vision very fast and that's referred to commonly as wet AMD or neovascular AMD, and there's treatments for wet AMD, but you're not treating the underlying condition; you're treating the neovascularization.
So there's injections like Lucentis or Eylea, which are very common today. They can rescue that fast onset of vision loss in wet-AMD patients. The patients still progress along the disease cascade. Some patients that don't experience neovascularization can be referred to as dry-AMD patients. Those patients will progress and then eventually lose that central vision, and the wet-AMD patients over time will also lose their central vision thanks to the underlying disease state. It's a very sad condition. It leads to debilitation and reliant on caregivers.
What doctors are not as aware is the other treatments for late-stage disease, and today, really those treatments are limited to external devices that can be used to magnify light and change the central focus of the light. The retina specialists are not aware of the technology. Some are not favorable to the technology, and the patients get a bit of fatigue, because so many of them that have dry AMD are told that there's no pharmaceutical intervention, there's no surgical interventions that can help them, and they go into a reluctance to come back and see the doctor.
If you lose the ability to drive at 20:80 and lose most of your central vision, 20:160's far worse than that. Most of our patients come in, maybe they can only see the big E on the very top of the chart.
We're approved in Europe, we've been commercializing this device in Europe now for a year, and we're seeing an average of three to four lines improvement. What that means is the patient starts with the ability to just see the big E on the top of the chart, but then can see four lines deeper. So getting very close to that 20:80 or possibly even better than 20:80 after surgery.
So we re-engineered the technology with human factors in mind. Surgeon factors, of course; the delivery now can be done in 28 minutes on average where it was 70 minutes prior; but also with patient-centric design in mind. Now the six-and-a-half millimeter incision in the eye is about half the size of the previous incision, leading to faster recovery and less chance for issues with the cornea.
LISTEN ON
---
ABOUT TOM RUGGIA
President and CEO – Samsara Vision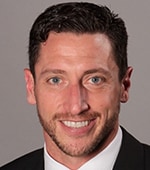 Thomas Ruggia joined Samsara Vision as the Chief Executive Officer in July 2020. With nearly 20 years of ophthalmology business experience, he has a comprehensive and nuanced understanding of the healthcare environment in the United States and abroad, as well as significant experience in the development and commercialization of vision products with differing regulatory and pricing structures.
Before joining Samsara Vision, Mr. Ruggia spent five years at Johnson & Johnson, working at Johnson & Johnson Vision and The Janssen Pharma Co, respectively. Most recently at Johnson & Johnson Vision, he was the Vice President WW Customer Experience and Ocular Surface Disease, responsible for two global commercial teams working in customer strategy, customer service, and field technical service. At Janssen, he was the commercial strategy leader in ophthalmology assigned to an asset in development for AMD. Previously, Mr. Ruggia spent fourteen years at Alcon, a division of Novartis, working in a variety of ophthalmology sales and marketing roles with escalating responsibility. He graduated with a Bachelor of Science from The College of New Jersey in 1998.
Connect with Tom Ruggia on LinkedIn
Mentioned in the podcast
About the Infosys Knowledge Institute
Samsara Vision, Implantable Telescope Technology
Back to Insights + News